Honestly speaking, a nail polish ban or abstinence is truly impossible with news like this — A England's new Autumn-Winter 2012 Collection!
I have spoken about A England in earlier entries and mentioned how smittened I am with their polishes. Thus far all the polishes I have tried have a track record of being easy to apply, achieves an opaque finish with little effort, glossy, wears well and of course are stunning.
As you can see, I have a very good impression about this polish brand that only has 2 collections out — The Mythicals and The Legends.
You can read my earlier mentions for more details but I am just here to throw my hands up and say, "new collection!!!!"
The Autumn-Winter 2012 collection, 'Gothic Beauties', features 5 black-based polishes speckled with shimmer particles ranging from a green to blue, red, purple and also a pewter like mix.
From swatches that are already available online, this collection appears a little subdued compared to their previous holo-fied polishes but yet hey are still pretty all the same.
Here are some swatches from apolishaddict.com to explain what I mean but head over to her entry to see it all!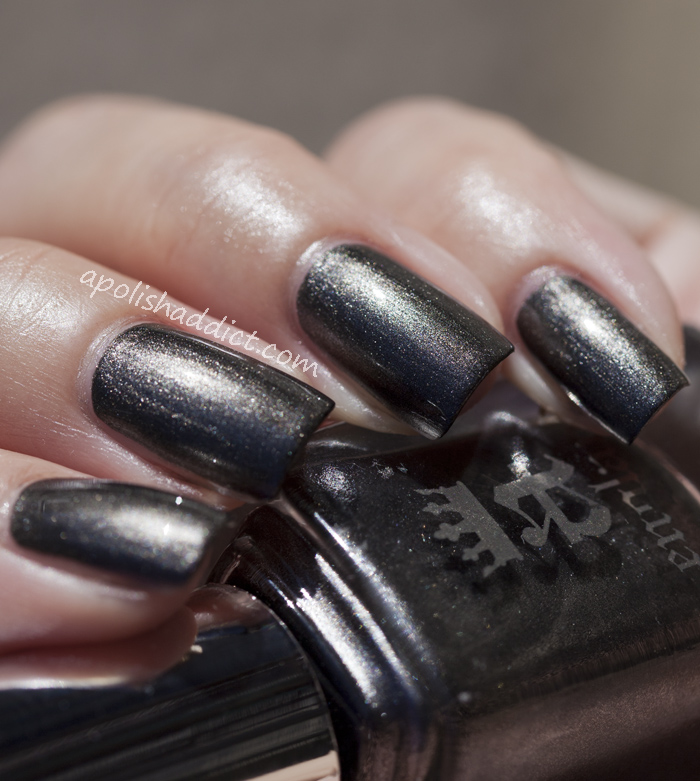 Dorian Gray
There are also more swatches on Lucystash and Fashion Polish.
I definitely have to get my hands on Dorian Gray because of how lovely it appears to be. That aside, I am still deciding upon the rest but thankfully unlike The Legend collection, I don't feel compelled to purchase the whole set, making it painfully difficult to limit myself.
Are you spying anything from this A-England AW 2012 Collection?
Gothic Beauties can already be purchased from A-England's website or perhaps Mei Mei Signatures (local site) at a later date.
Thanks for reading!