Available at all Anna Sui counters right now, the Spring 2012 Makeup collection had caused quite a stir and anticipation when photos of the rose cheek colors were first released.
My mention is a few weeks behind (launched 20th January) and most who are in love with this would have checked these darlings out but if you haven't, here are more photos and swatches to entice you to the counters.
Inspired by the coming of spring where snow melts and fades away to reveal flowers in bloom, the Spring 2012 collection pays tribute to the magnificient rose. The vision of roses scenting the air, blooming and casting an exotic sensual spell is the spirit of this collection that spells nothing short of Anna Sui with it's decor.
Thanks to Mag, I got to drop by the Anna Sui counter with the lovely ladies, Kas, Evonne and Joey to swatch and check out this collection in person.
As you know, or might not know, I kind of fail juggling my camera while swatching stuff so the hands you see with swatches belong to the lovely Joey, Mag and Evonne. Thank you ladies for lending me your hands and swatches!
The Spring 2012 collection sees the launch of the following items:
Rose Cheek Color (6 shades)
Liquid Eyeliner (3 shades)
Double Lipgloss (3 shades)
Cheek Brush
❧
The star of this is definitely the Rose Cheek Color so I will save the best for last. First up, the Liquid Eyeliner (S$33).
This is available in three shades, a black, brown and violet. The shades are of a more tinted tone that gives definition yet hints at color, instead of say a bright vibrant purple.
We swatched the shade 500 Brown twice because we were a little confused with the testers, or perhaps it's our biaseness showing as Evonne and I really liked how 500 Brown appeared. It has more dimension to what my camera wishes to pick up, it's somewhat a bronzed dark brown, beautiful!
The liner pens have a brush tip to them and function like the Majolica Majorca pen liners where you click up the product to dispense it before drawing. They are said to be smudge-resistant and generally water-resistant yet removable with warm water.
Next, the Double Lipgloss (S$54), which I personally feel is another star of the collection.
The Double Lipglosses are available in 3 shades that are sufficient to compliment the 6 Rose Cheek Colors. One end of the gloss is a Rouge Color and the other is termed the Pearl Color. The Rouge Color for the 3 shades have lovely pigmentation and the pearl color end provides high-gloss, a great combination!
The applicators for this Double Lipgloss is quite distinct as well but I didn't manage to get a shot of it at the counter though I do have one coming up in the next post.
Look at Sensual Rose, isn't that red shade just beautiful! I think I truly am geared towards the reds now.
The final 2 products work hand in hand with each other in a way so I will introduce the Rose Cheek Color (S$49) first.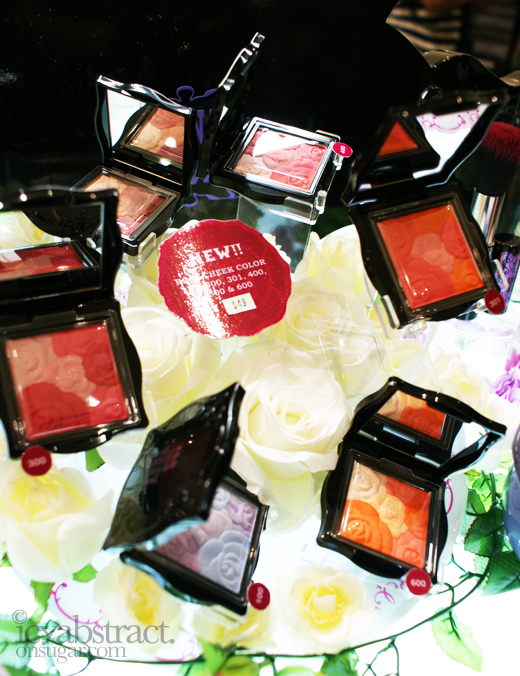 Available in 6 different shades, each palette comes with a gradiation of 4 colors that blend and work together to give each cheek color its unique flair. You can choose to swatch from a certain portion in the blush mosaic or swirl everything together for color and a pearly sheen.
All the shades are captivating to look at and the powder emboss design seems to mimick roses growing and lapsing within the cheek color itself, trying to reach the top and burst through with color! I think I may be reading too much into it, but it is a beautiful design though at first glance, certain points of the roses weren't as defined as I thought it would be.
Nonetheless, it is still lovely and here are some press images of the 6 shades, because I didn't manage to capture them all at the counter.
Amongst the 6, Mystic Rose has been garnering the most attention and I can't blame it because it looks absolutely ethereal and elegant. The other colors are lovely too but the mix of pale lavender, ice blue and orchid white makes it quite a sight! If anything, it would be a gorgeous collectors item.
While I do love to admire it, it's function as a (blue-ish toned) highlighter is kind of... normal. It's a beautiful color but perhaps I have too many highlighters around to factor purchasing this for shade purpose, however as I've said it's a gorgeous collectors item and if you truly wanted it, there's no such thing as too many highiighters!
The cheek colors pick up well and have a soft pigmentation to them.
Accompanying the Cheek Colors is a statement looking Cheek brush (S$56).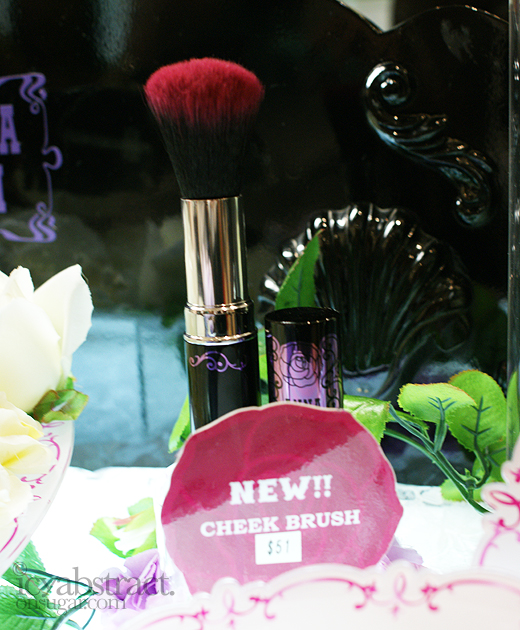 This retractable brush has a very fashionable pink ombre going on with the bristles that do feel very soft and smooth. The brush is retractable, which allows you to lug it around for touch-ups.
What's more, most retractables function in a 'push-up' manner, however with this you 'twist' the metalic portion up which allows you to stop mid-way for a more tapered brush.
With this you can choose to pick up select points of blushes, as demonstrated here. Blush brush and highlighter brush, anyone?
This wraps up my brief (I hope) sharing of the session I had at Anna Sui. I do have 2 items from this collection on hand which I will feature in more detail in another post with more swatches and whatnots.
I was going to do it tonight but I feel my brain shutting down so I'll see you agian tomorrow, thanks for reading!