Fashion Steps Out 2012 created quite a buzz last week when a stretch of road at Orchard was cordoned off for a runway show. Yes, picture killer heels strutting on tar and gravel, can't get edgier than that!
Following that, Fashion Steps Out launched a Pop-Up Bazaar at the covered walkway infront of Mandarin Gallery. This Pop-Up Bazaar will run from the 23rd of March till the 25th of March (Sunday) so if you happen to be in Orchard, swing by Mandarin Gallery to give these stores a look!
Earlier this evening, they had a preview session for invited guests before opening the space to the public (which was from 7pm onwards).
I did some live tweeting from the event venue itself but for the most part I was caught up in taking in the sights and exploring the space so here's more coverage on this Pop-Up Bazaar.
While the bazaar isn't a huge bustling area with lots of pop-up shops, the participating brands did have some interesting services going on that are worth a look. However I'm not too certain if some of the activities were arranged solely for the preview launch.
One eye-catching pop-up store would be Miss Selfridge's candy store.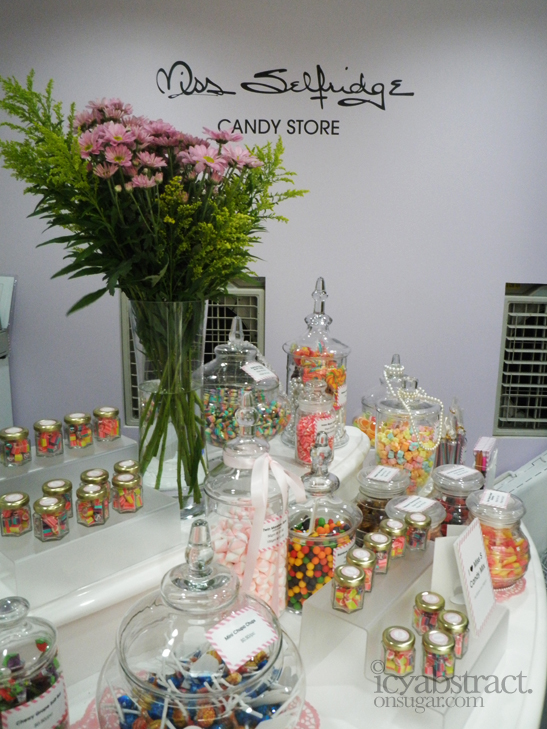 One example of the special service would be this, purchasing candy at Miss Selfridge and getting a photoshoot along with an instant photo!
Another brand present is the widely known accessory store, Diva and here is their special service.
I thought this was pretty cool because they are currently promoting their feathered headbands, which are a fashionable item right now. So if you do decide on purchasing it, they can style your hair in theme with the headband. Though any purchase can be made to qualify you for the hair styling service.
Not very flattering shot but I picked something up and got a quick styling session done on my otherwise very neglected hair.
The Diva pop-up store was also carrying newer items that were (on Friday) not available to the other stores. One example is this colorful and fun looking nail stickers.

(stolen from my twitpic)
Though by the time this entry goes up, it should be available at all Diva stores islandwide (launched on Saturday).
Another brand doing a preview session is Laline, a bath and body care company that had just set foot in Singapore.
Created by two Isreali cousins, Laline has a couple of boutiques within the States and their home country. I believe (from information on their website) that a store in Singapore would be their first in Asia!
The brand has a range of bath and body care products from body lotions, shower cream, body scrubs, body mists amongst many other things. They have a few scent ranges available as well though my overall thought is it leans a little to the sweet side, not exactly my cup of tea. I did like one range - Ocean - yet it was a like not love so I walked out with nothing in tow.
But here are some rather interesting items to the brand.
Oil Soap, sounds extremely interesting yet I'm not very experimental when it comes to using oil on my body. Anything too rich and my eczema freaks out. I will wait patiently for some opinions and reviews about this though.
They carry foam and mousse body soaps in a couple of their ranges and I thought it was interesting. I debated on the idea of picking it up but sadly didn't find a scent that I loved enough though I'm on the fence about Ocean, still.
Okay nothing very different about the body lotion above but I snapped it because I liked the design and colors.
Moving away from Laline to the pop-up store at the very far end, the store that buzzed with the most traffic throughout. Not very bustling in the shot below which was taken before the crowd came in.
Topshop's Print Space!
Basically you can choose a design (from 6) to print onto a canvas bag where there are a couple of customization options for the bag itself and after the bag is printed!
To print your bag, all you have to do is purchase a Topshop voucher of S$20, or was it S$28, and you're good to go! That voucher can later be used at Topshop stores to offset your purchase so, if you think about it, you really aren't paying for the bag.
I had a ticket to redeem a free bag and was pretty undecided about the 3 designs on the extreme left but after much delberation I made my choice.
Once you fill up this slip with your design choice and choice of handle length (long or short) and color (black or white), simply pass it to the staff and wait for your tote!
Further customizations can be done in this, I call, inking corner. Where you use alphabet stamps and an ink pad to stamp out letters of your choice! You can now flaunt a topshop tote with your name on it, if that's something you fancy.
After having our bag created and customized we strolled around and checked out the other participating stores.
Here's MAD Museum of Art and Design who took 2 pop-up stores, one for their work and another to create a little cafe.
Graphic print t-shirts for sale at MAD's Cafe booth.
Also present is another seemingly tongue-in-cheek store, What Women Want, who sponsors clothings and accessories to the reality tv show, Supermodelme.
Aside from retail spaces, there was also a demonstration of what they call, Tee Recon - cutting, braiding and reconstructing a plain old tshirt to something new and fashionable.
The demonstration was done by Ash Lee, a fashion designer who will be launching her own label in April. If anything, I love the recon-ed tee that she has on, can anyone point me to where I may purchase something like that?
While food shouldn't take the cake during an event (unless it's a tasting), I just have to give this a mention because the cakes and little tarts served during the preview were yummy!
That salmon tart (second row from front) haunts me right now as I look at this picture, so savory!
Red Velvet cake! Which was a hot item and snapped up everytime a new batch came out. They had carrot cake too which was delicious as well.
And the lovely pals I spent the evening with, Kas and Chantana!
❧
And now back at home I snapped quick shots of what I lugged back, starting with the Topshop totebag, held up by the ever-so-useful boyfriend.
I chose this design in the end because I zoomed in on it at first glance, strayed to others a little but stuck with my first love in the end.
I didn't feel like stamping my name or blog username on the bag so I went with something random. Come to think of it now, perhaps an interesting quote would be a good call?
And that one item I picked up from Diva, which qualified me for a hair styling session. It's a bracelet / necklace / belt / really versatile thing.
I believe this was S$22. I caught sight of a bundle of bracelets that were so woody and feel very gypsy-ish (sorry, 2am and words are escaping me) but I refrained from splurging on them, they were S$30.
And of course, my 'new' hairstyle!
Thank you Kas for the shot, my self-cam skills have degenerated.
So that wraps up my evening out at the Fashion Pop-up Bazaar!
Again, it's going on from the 23rd to 25th of March, which basically means you have the weekend to drop by and check it out if you want to give Laline a look, get yourself a topshop tote bag or just pop by if you're the in the area!
The pop-up stores are located at the front of Mandarin Gallery (which is located across Ngee Ann City).
Thanks for reading! Which Topshop tote design would you pick?
Disclosure:
The event was hosted by Sinkid & Fashion Steps Out 2012 and Topshop tote was provided.
Diva bracelet was purchased on my own. I am not affiliated to them and opinions expressed are my own.