Oh lookey here....
I was going through my pictures and chanced upon these bottles of polishes I acquired towards the end of 2011. I haven't been overly secretive about them because I did mention and swatch one, but amidst the other posts I suppose I had overlooked posting this up.
Be it subconsciously trying to minimize the haul factor on here or if I had really forgotten, I'm not too sure... heh.
I was eyeing a few colors from the China Glaze Halloween collection when it first came out and contemplated to spree for them or get it off an online nail beauty store but in the end none of that happened, though it didn't mean that I had forgotten about them. While browsing Mei Mei Signatures after hearing about them for the first time, I saw these in stock and immediately snatched them up.
I picked up Haunting (black with silver shimmer flecks) and It's Alive (undescribable glittery olive green).
It's Alive was the color that drew me towards the Halloween collection with it's glittery murkiness. It's seems to have this mysterious witch potion allure, or is it just me? I was also tempted to pick up Near Dark to pair it with but settled simply for 2 colors.
Haunting is sort of what I wanted OPI's Baby it's "Coal" Outside to be, with the slightly more obvious silver shimmer flecks against a black base. I still like OPI's Baby... for being a black that isn't too flat-black but it's not particularly special like I thought it would be.
I had done swatches of Haunting, which I wore over Christmas, see them here.
I haven't swatched It's Alive just yet, which is quite odd considering it's the color that drew me to this collection but I find that always happens, saving the best for last? Well with the festivities I find it a bit off to have on an olive (mildly murky) green though there's really no code for what to have on but still.... you get what I mean!
Lastly, I picked up this pretty interesting Nail Art sticker that you apply via the help of water.
I haven't tried it out just yet and as with new things and experiences I'm pretty sure I'll screw up along the way but fingers crossed alright! Will share when I try my hands (literally) at this.
❧
Since we're on the topic of nails, here's an update on my Sally Hansen Salon Effect's Nail Stickers. I've only had it on for 3 days but so far so good!  I don't spy any signs of wear and tear on them, just yet.
I haven't done any vigorous chores but I did wrestle some crabs along the way (albeit as mildly as I could) and... no battle scars!
Some shots I just snapped with my iphone cam.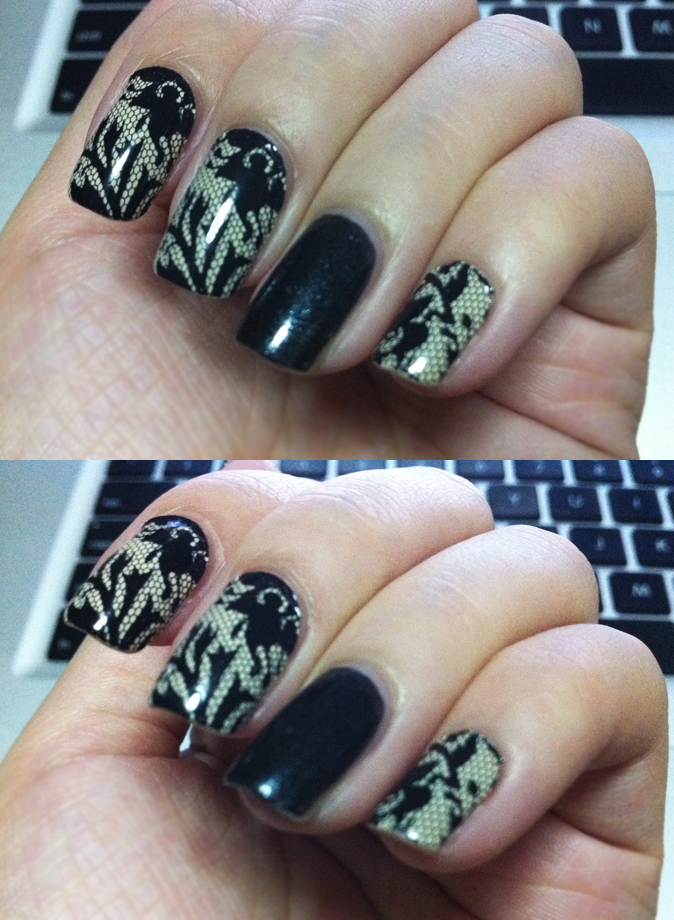 I guess these nail stickers are a lot sturdier than I give them credit for and I'd like to think having a Top Coat over helps too!
Thanks for reading!