I wanted to put this up sooner but there was some darn glitch on the post page which didn't allow me to input images. The glitch is still present but I'm trying my hand at hosting the pics elsewhere and being completely manual with this, will explain in a bit!
---
I had some time to kill last Tuesday and since I was around Bugis, I decided to drop by Watsons. Even if I don't have anything in mind to get it's always nice to just peruse the aisles and decide on the spot that I actually might need some things.
Right now they are having a 20% off till the 29th of June. Not entirely sure if it's a store-wide deal but either ways, it's worth checking out.
With the offer, I picked up something that I actually need -- sunscreen.
Aqualabel White Protect Milk UV SPF 30 PA++
This was a recommendation by Mag (makeupstash) as I had once mentioned how I never used sunscreen because I never found one to my liking. However 'non-sticky' most sunscreens claim to be, I would still find a noticeable tact to it that's past my tolerable point.
This, was different though and is truly not sticky or greasy upon spreading out, I was impressed! A true claim, not one of the above mentioned scenario.
I swatched it in the store and it is runny texture that spreads out easily without leaving any odd white blotches despite the white cream appearance.
Upon spreading it out I almost didn't feel it on my hand at all, it wasn't sticky or greasy but not saying it was powdery smooth like primer.
It felt really light-weight, almost like nothing. With that I was sold.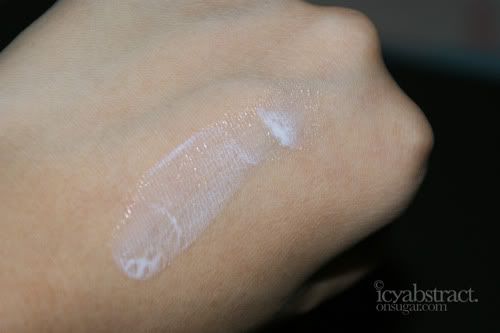 I have tried this on my face and the feeling translates as well. Not the situation whereby the swatch is smooth on the hand but still tacky when used on the face. I've been using this religiously and am pretty glad about finally incorporate SPF to my routine.
This also comes in SPF 50, which had a bit of tact to it since it's water-resistant but still relatively okay. The red (moisturizing) range has one in SPF 28, which also has a slight tact to it since it's suppose to be hydrating.
I liked this one the best.
It's retail price is S$26.90 but it's going for S$18.80 right now (with the 20%).
With a watsons giftcard and redeeming some points from my membership card, I ended up only paying 80cents for this.
Gotta love sales!

---

p.s. I managed to post this by hosting the images on photobucket and seriously just typing this up under the html tab with the codes. So the entry looks a little something like this. Lol.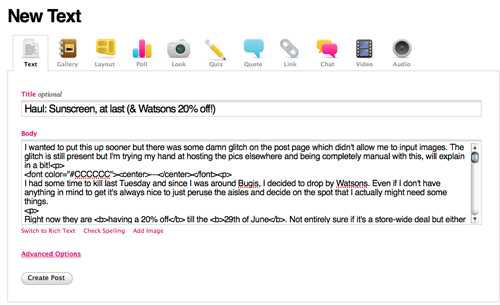 Not a long term solution because I don't trust photobucket's bandwidth but I wanted to get this up while the Watsons sale is still on.
Thanks for reading!