I have talked about my fair share of facial treatments, even aesthetic ones and while I am no guru about them I can safely say this experience was quite different from what I have ever tried.
Jet Concepts is a homegrown beauty concept store that sets themselves apart from the mass of facial wellness treatments by being more medical with their approach. By that I mean, they use state-of-the-art equipment that you can only otherwise find in aesthetic clinics or doctors office instead of a beauty salon serving facials.
Their medical approach enables them to give you instantenous results, seeing the effects of your facial the minute the session is over. Though it has a more aesthetic edge, there aren't any downtime and no risk of burns, pain or wounds which you could sustain through aesthetic treatments.
In short, this is fusing the best of both worlds together - the simplified pain-free idea of a facial session along with the effectiveness of an aesthetic treatment, again minus the downtime.
The Jet Plasma Treatment, which I was invited to go for, promises improvements to the skin's elasticity, radiance, texture, as well as reductions in pore size, wrinkles and fine lines. The procedure also firms the skin so that you emerge with a slimmer and sharper face contour.
That's not all, post-treatment, your skin is said to continue looking radiant and clear as the collagen fibres which are stimulated during the session continue to remodel themselves over the next three months.
That's a lot of bolded information but with key messages like this and the ones above, it really piqued my interest to see what this is all about.
At Jet Concepts, they have different treatments depending on what your skins needs are and what your problem areas are. There are 3 main layers to the skin and here's an overview of the problems that would lie in each area.
The 1st Layer: Epidermis
Skin conditions: Clogged pores, Uneven skintone, Fine wrinkles, Oily Skin, Pigmentation, Dry & Rough Skin
The 2nd Layer: Cellular Layer
Skin conditions: Dull Skin, Wrinkles, Poor Cell Function
The 3rd Layer: Collagen Layer
Skin conditions: Poor elasticity, Loose skin, Fine & deep wrinkles, Saggy skin
The Jet Plasma Treatment I have mentioned about, and will go into detail about, targets all 3 layers of skin. Thus it aims to clear superficial surface issues while penetrating deep within to improve the collagen level and elasticity in the skin.
This treatment makes use of the Plasma RF Machine (which I will showcase later) and a series of electrowaves coupled with RF energy. It is a fairly quick procedure and the apparatus looks simple in shape and size (albeit still high-tech) so it's quite astounding that it produces such results.
❧
I went by the branch at Wheelock and I liked how it was central in Orchard yet tucked away in a quiet corner.
You will be guided in to lock your belongings away in a locker while you have your session. It's a quick nifty session so no need to change into robes though they do have it provided in any case that you would like to.
Then the usual procedure of Cleansing starts to ensure that the treatment is done on clean skin.
After cleansing, the therapist (known as Peggy from here on) performed a quick aromatherapy exercise. I can't recall the name of this now but it's to inhale the essential oils and relax your body.
Here comes the main part of the treatment and I will try to keep each portion as brief as I can!
Step 1 - Lymphatic Drainage
Instead of massaging the face, this is a whole different thing. Compressed oxygen and saline solution is blasted onto the skin to refresh and also to promote blood circulation.
It feels like a high pressure tap against your skin yet it doesn't hurt, if anything you will feel weirded out thinking it's water but not feeling anything wet. Earplugs were also provided because the machine causes quite a stir when operated.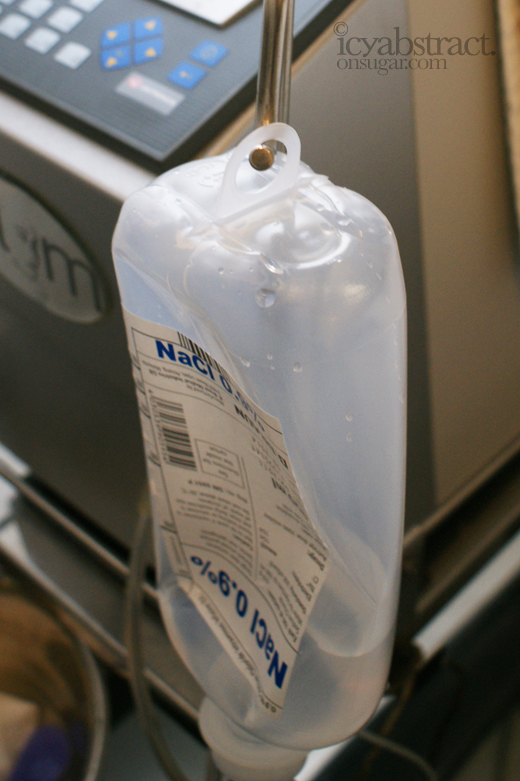 Step 2 - Blue Peel
The Plasma RF machine is then introduced to the skin but before this, Peggy placed a metallic plate against my back. This is to ensure the current and energy flows in one similar direction (inwards) instead of dispersing and going all directions.
With Blue Peel, it uses electrode dielectric barrier discharge to clear the skin of bacteria while boosting the growth of healthy cells. The process felt like a metalic tip running over my skin so I was intrigued as to how that simple notion could provde an exfoliating effect. Guess it's the work of things I cannot see and feel for myself.
Step 3 - Lifting
This process is when things get serious. A layer of cool gel is placed on your skin to protect and soothe it as there is some heat involved. The gel also ensures maximum penetration of the Rf energy
Below is the Plasma RF Machine that I was talking about! In total there are 4 'applicators' plugged in to this machine (if I remember right) and the 2 pictured are the ones used in this step and the next.
This step uses the smaller applicator which heats up around the tip and the energy it creates does the job in lifting the skin. Again, I'm no science expert so I shan't blabber about that but the heat does feel intense at times and you can tell your therapist to turn the heat down if it's too much. Though heat is still a main point to this, so whichever you are comfortable with.
Peggy was nice and constantly asked if the heat was alright. Overall I'd say... its similar to holding a cup of warm water to your face. It's alright but with constant exposure it can feel warm but just let your therapist know and they'll know what to do.
It's not as scary as I am making it sound, I assure you.
Step 4 - Tightening
This step makes use of the bigger apparatus above and it has a warming effect as well which is far more mild than the previous step. It's almost like luke-warm if the previous was warm. This was actually quite comfortable and though it's not spa-ish, I was zoning out a little. Or perhaps I was just tired.
This step and the one above sees the RF energy rejuvenating and tightening collagen fibres, making your skin firmer, more elastic and supple!
Step 5 - Yellow Peel
This last step rejuvenates and wraps up the entire facial with yellow light energy. This process sees a little prickling sensation going on at areas where the face is more clogged. In my case it was the forehead on my left side (funny how it's only the left, my bangs?) and of course my nose area. This procedure also energises lethargic skin cells and gives skin a luminous and radiant glow.
This final process also shrinks the pores and the zapping helps clear up clogged areas on the face.
Peggy first did one half of my face, the left side (which is your right on screen) and proceeded to show me the difference between the left and the right.
I would say the lifting effect is mild and not as obvious as the session at Lancôme Institute de Beauté but everything else was wow. The left side of my face appeared brighter and more radiant as compared to the right which seems dull. I did a close up on my nose and pore area and I typically think I don't have a huuuge problem with pores but after this, my mind is changed.
For better viewing, click to enlarge. Which means my pores in your face, but hey, if you want to better see the results.
Oh and btw, yes, no extractions to this procedure! Can we get a hurray?
❧
After the session is over you will be showed a face-chart highlighting the issues they had spotted in your session. I didn't snap a shot but I had blackheads on my chin area (never knew that!) and some clogged pores on my cheeks.
Once the session was over, I scurried over to the washroom thinking I looked kind of crap, like how after facials your hair sticks out, your face appears swollen etc but I was surprised.
Since I only kind of saw my half face, I didn't expect to see that I looked... well, fine. Except for the slightly smudged brown liner that gave me a little sore-eye look I think my skin is looking pretty good! My skin felt smooth to the touch especially the area around my nose. No kidding. I was completely in awe as I would typically feel some texture to that area, not bumpy yet not perfect canvas but after this it was just... smooth.
Here's a toilet shot I took right after the session, while ignoring weird glances my way.
And because I couldn't stand my brow-less self (I have like no brows right?) I filled my brows, drew on some liner and kept the rest of my face bare as I walked through Orchard Road.
While I was conscious about it (since I was in glasses and all), I actually didn't feel too bad. You might have heard me tweet about it but in all I felt like my skin looked presentable enough sans foundation!
Taken on the bus-ride home:
I like the natural luminosity my skin manages to give. While my skin isn't flawless and you can see some acne scars and little markings on it, I felt the radiance and how smooth my skin looked seem to make up for that. It's not perfect but it's good enough for me!
The therapist mentioned that some people might find spots forming as the Yellow Peel does zap clogged pores up so I waited a few days to see how it would go.
I did my facial on Thursday and by Sunday it was all still good with no bumps surfacing. My skin still felt the same, smooth and pores, what pores? Okay it's not that dramatic and while you can still see the pores in pictures, the skin feels very smooth to the touch which makes foundation glide over that portion effortlessly, masking what you can see.
Bareface shots on Sunday:
I like that my skin still looks radiant and complexion still smooth. How long the effects last depends from person to person but it's typically about 3 weeks to a month. The amount of time inbetween sessions vary too but it's usually a month though the therapist informed me that my skin can wait 2 months.
It's too early for me to comment about the factor of collagen stimulating itself for 3 months but so far this has been living up to it's claims of instant skin rejuvenation and shrunken pores.
The Jet Plasma session costs S$380 for a 45-minute session (exactly what I experienced) though there is an introductory session for S$168. Packages will average out to be cheaper per session too.

I feel price-wise it's not too bad as normal facial procedures will require more than 1 session to see benefits or in my case I went regularly once a week for a month before I saw an overall improved skin texture. As for aesthetic treatments, they tend to set you back more and you will also face some downtime with the rather invasive Chemical Peel.
Thus working it out, this does seem more ideal in terms of price and time saved after.
Though there are some down-sides to this. Since it makes use of electrowaves and RF energy, a select group of people are not recommended to use this:
Those with eczema (on the face) - body is fine if it's mild
pregnant women
Those with heart issues
Those with metal inserts within their body
In Conclusion
I am quite glad to have discovered a treatment like this because there are situations where we want to look good quick and while booking facial sessions are a great indulgence sometimes we just don't have that amount of time on our hands.
I was also told the Jet Plasma Treatment is a hot favorite amongst those in the mid 30s or later because the tightening effect really does show up better on mature skin especially if they are facing some sagging issues.
So phew, I think I have rambled enough along the way that I'll keep my conclusion short. Thanks for reading this far and I hope my bare-faced self humored you along the way.
Disclosure:
Pampering session was hosted by Jet Concepts, special thanks for their hospitality.
I am not affiliated to them and all opinions expressed are my own.