If you're still not sure what to tell a friend or family member to get you for Christmas, what about these Giorgio Armani Eyes to Kill Eyeshadow Quads?
I've seen word about the release of these floating around online and I am glad to (officially) learn that they are reaching us pretty soon — 1st December 2012.
The special appeal to these quads, aside from the sleek Giorgio Armani packaging would be the use of light Micro-fil™ silk powders within the eyeshadows. These silk powders allow the eyeshadow to melt perfectly into the skin.
Pairing that texture with a finish that marries matte to satin, one would hope to receive an intense payoff that blends smoothly with a soft luminuous veil to the shade (which somehow doesn't sound like a matte anymore but ... oh well!).

(click to enlarge)
01 — Maestro
02 — Terra Siena
03 — Pantelleria
04 — Effeto Nudo
05 — Mediterranea
06 — Boudoir
07 — Saharan Blush
08 — Parma
Inspired by the spectrum of nature, the 8 eyeshadow quads reflect hues of rocks, earth, sea and natural vegetation. Thus, with a quick look at the promotional images, the shadows appear to be relatively wearable and simple to work with as opposed to bursting with intense accent shades.
Regardless of that, the looks created are still far from boring with a distinct luminuous transparency.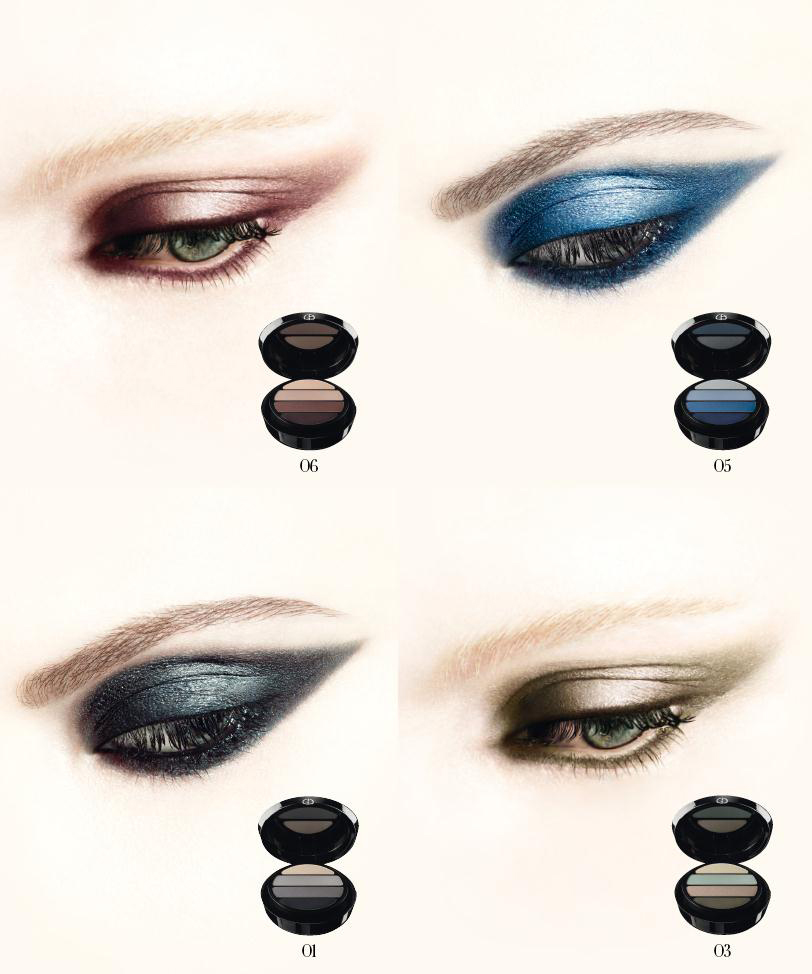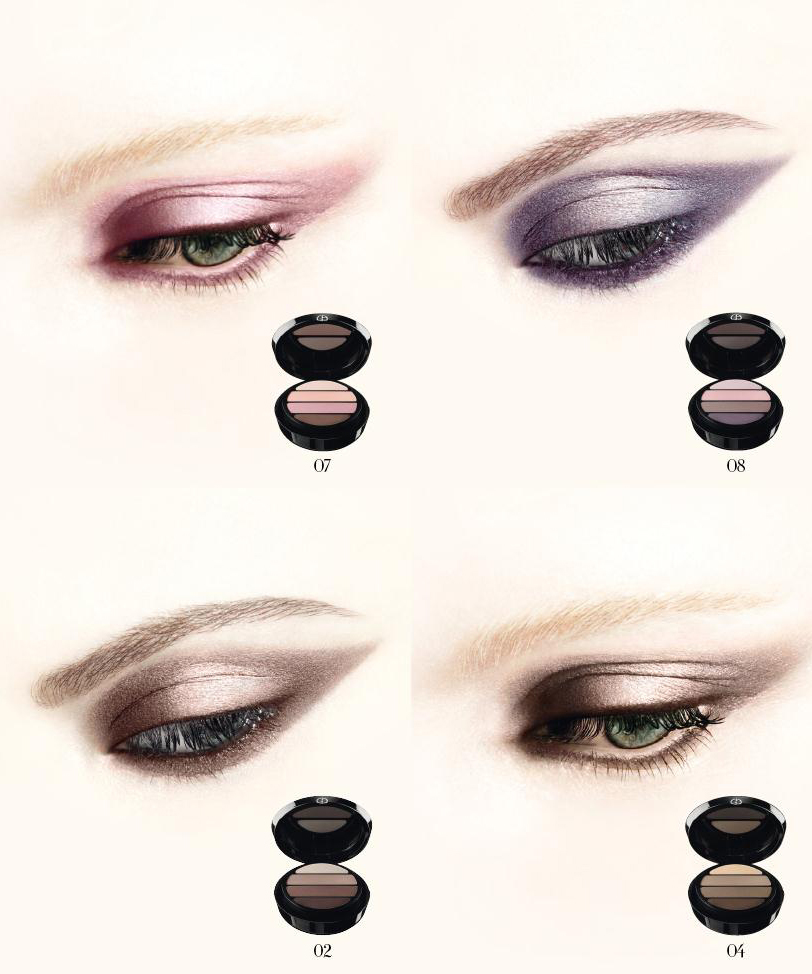 From the application promo shots above, 08 Parma looks stunning, along with the ever-safe but lovely neutral combo that is 02 Terra Siena.
If anything I will zoning in to those when I check out the collection once it launches but I am trying my best not to get started on GA's eyeshadows. It's like opening a floodgate and not knowing if I'll be able to stop after!
Regardless, I can't wait to swatch and feel the texture of these for myself. Though in the meanwhile, do check out Beautezine's post to see (beautifully tempting) swatches of 01 Maestro, 04 Effeto Nudo and 07 Saharan Blush.
The Giorgio Armani ETK Eyeshadow Quads will be available exclusively at DFS Galleria (Scotts) from 1st December onwards, retailing at S$80 each.
Thanks for reading and it's never too early to start adding this to your Christmas wishlist! ;)
Disclosure:
Some information and pictures featured were extracted from a press file (with or without paraphrasing).
Opinions and thoughts otherwise mentioned are my own.