Penhaligon's is an English perfume house, founded by William Penhaligon, with over 100 years of history. Those years of rich history would include being awarded 2 royal warrants from HRH The Duke of Edinbourg and HRH The Prince of Wales, very honorable stuff!
In light of Valentines Day, Penhaligon's had arranged for their own take on 'celebrating this occasion' with a Scent Profiling session. This visit marks my very first to Penhaligon's boutique at ION Orchard (3rd level), after having heard and seen so much about it.
Before I get to the session, I would like to share a couple of interior shots of the place for the viewing pleasure of those who have not been there.
The decor within the store is well thought out to match the brand's English heritage and image. I find they did an exquisite job of transforming the store into this special space. Its classy yet not intimidating and intriguing enough to lure you in.
The minute you step in, you almost forget that you are in a bustling mall in Singapore; instead it seems like you have walked into a quaint store along the streets of London.
Penhaligon's carries a range of items from perfumes to handsoaps, aftershaves, lotions and a whole lot more, all of which are nicely displayed on these shelves.
In lines with Valentines Day, the attached/married were encouraged to bring a partner down to get scent profiled together.
As I learnt later from Mike (of Penhaligon), it is an interesting experience to have couples be scent profiled together because they will be able to learn more about each other and discover scents together, debating if they like it or not. Boyfriend and I weren't exactly the premise of 'interesting' with conflicts and banter but we did manage to learn things about each other, or rather I learn about him.
❧
With over 30 fragrances greeting you the minute you enter the store, (not scent-wise of course, imagine that!) how would you know which to pick out, especially if you are new to the brand? Well, that's Scent Profile to the rescue!
Essentially, scent profiling is about finding that perfect scent for you based on how the fragrance expert reads your mannerisms and answers. At the end of the day, function still plays a very important role in why you want a perfume and what sort of perfume you are looking out for but I went for this without a thought in mind except to seek out a scent that I would love.
We were seated at one end of the 'island' within the boutique and offered some tea.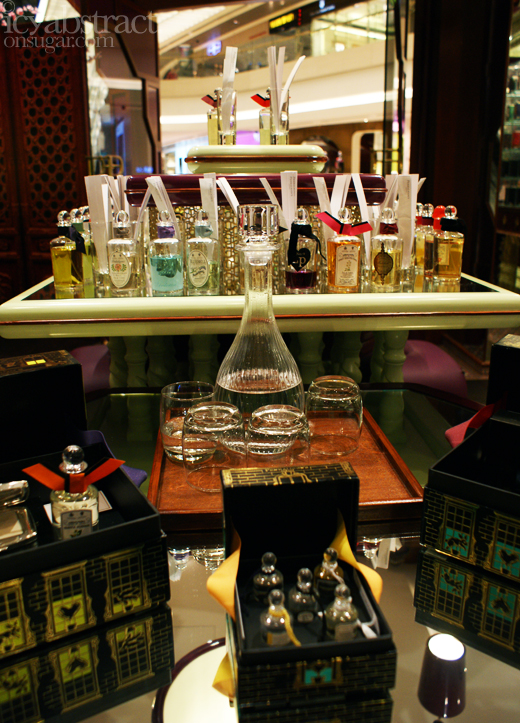 The most commonly used item to cleanse your palette (so you don't end up confused about scents) would be to sniff coffee beans inbetween but Mike had shared that drinking a liquid helps too, be it water, tea or coffee.
Starting off, Mike sat us down and did an introduction about Penhaligon's, really brief stuff just to keep us in the know-how of the brand's heritage.
I must say Mike did a great job playing host. He was very knowledgeable, answered our questions and kept the session very entertaining and insightful with his personality.
Following that we were asked some quick questions about 'What perfume is to us', 'What we looked for in our perfume', general questions that would give Mike clue about our take on perfume. The most important thing in this session is to be honest about your thoughts because at the end of the day if you hinder your answers, you will also affect how effective the Scent Profiling will work out to be!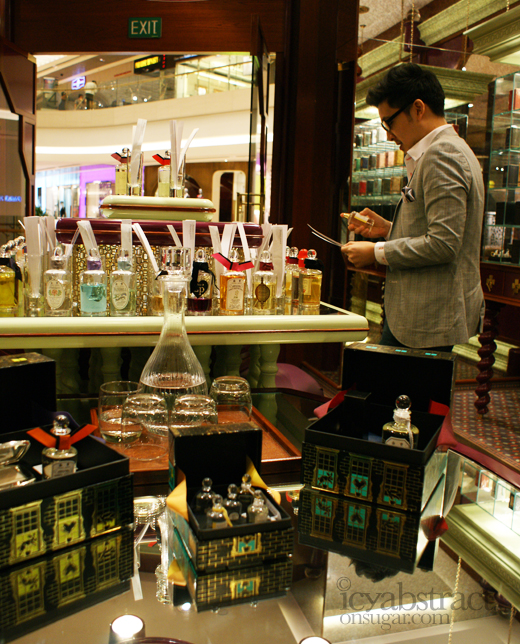 Mike kicked the session off by giving us both a very... I would like to say neutral scent. It's a safe scent that fresh, crisp and light, not to say it isn't lovely but he would like to hear our stand on it to determine which spectrum to take.
I don't know all the names of the perfumes because Mike insisted on being secretive about it so we let our noses be the judge. Hehhh. Though I sneak peaked a few that I quite like after the session was over.
From that first scent sample, boyfriend and I were on pretty different tracks already. Mike was quick to pick up on which we preferred and what we didn't like. It wasn't just a simple case like 'no florals' or 'no citrus' but rather he picks out scents that he felt suited our personality regardless of what 'genre' it is.
❧
By the second scent sample, boyfriend was quite pleased but Mike refused to stop there because he felt that there was a more befitting scent for the boyfriend's personality.
The whole thing was quite a process and I'm skipping a step-by-step run-down because that would mean a novel. At the end of the fifth sample, boyfriend had definitely found the scent. Strangely enough, boyfriend mentioned he liked cool, light and refreshing scents, something simple and straightforward yet the scent he fell in love with is anything but straightforward!
The end scent he picked up was Sartorial which is a scent journey encased within a bottle. It's made to replicate an environment, namely Norton's and Son's tailor shop where perfumer Bertrand Duchaufour actually went sniffing the entire space to get a grasp of how to translate this environment into a scent. True to the story behind it, the scent that develops tells a tale of leather, wood, cloth, sweat and dust.
Despite that odd sounding description, the end result is an overall sophisticated, elegant and gentlemanly scent that isn't very 'run-of-the-mill'. I can't recall this scent to a tee since I'm basing this off memory but it starts off very velvety and leathery, hinting at some oak amidst dampness. On the boyfriend the scent starts to warm up to this hazy and dusty musky scent which I find is not 'aging' on him.
Top notes: Aldehydes, Ozonic Effect, Metallic Effect, Violet Leaf, Neroli, Cardamom, Black Pepper, Fresh Ginger
Heart Notes: Beeswax, Cyclamen, Linden Blossom, Lavender, Leather
Basenotes: Gurgum Wood, Patchouli, Myrrh, Cedarwood, Tonka Bean, Oakmoss, White Musk, Honey Effect, Old Wood Effect, Vanilla, Amber
Most of Penhaligon's scents are unisex so this is purely how it smells on the boyfriend. Apparently some women find themselves drawn to how it wears on them though I feel it's a pretty masculine one. Perhaps I should borrow this and give it a whirl.
From this session with the boyfriend, I have come to realize that he actually has an acute sense of pointing out scents and describes them very well. Prior to this, I know him as someone who was easy-going with his fragrances? He doesn't give them too much thought so long as they smell good, thus it was enlightening to see him from this angle!
❧
In my scent profiling case, it took a little bit longer because in my mind, perfumes fall in various categories and I find myself liking a wide range of scents because different scents are good for different scenarios.
From that first scent sample, Mike then moved towards the more 'mysterious' and quirky evening-esque scents such as
Malabah - I can't remember much of this except it was sensuous, a little spicy but not too heavy
LP No. 9 for Ladies - which I love for it's mysterious aura yet burst of playfulness between whiffs
Night Scented Stock - one of the very unique scents I had encountered, it's hard to even word it
I did develop a liking for the above scents, especially so with Night Scented Stock but they were in the "I Like it" zone, not "I Love it", probably due to their functionality. I would wear them for an evening out, but I don't go for that many 'evening out's to start with.
The love part of this happened when Mike felt that he had to try out this fragrance on me. Despite my earlier mentions that I'm not too huge on florals and sweet scents, he knew that this... I would love.
And in all honestly, he was right.
Seeing my positive reaction to that one floral fragrance, he pulled out more and we had Gardenia, Ellenisia and Elisabethan Rose infront of us. I am biased towards rose scents in all circumstances and loved Elisabethan Rose for it's pure clarity, the scent just sparkled as you inhaled it yet I wanted something more complex so at the end of this long process...
Gardenia and Ellenisia it was
On the scent sample I absolutely loved how Gardenia emulated a field of sun, flowers and this very light floral airy feel within. It's pretty and it's feminine, bordering on this very organic vision.
From the scent sample, Ellenisia opens a little intense compared to the other florals I had been handed. Maybe 'a little' is slightly understated but this scent has a "Hi, I'm here!" effect to it and overlooking it's intensity, I liked how it is floral with a touch of sweetness and held together with a powdery musk to balance things out.
If I were choosing simply from the scent sample I would have picked Gardenia but as with perfumes, it's always important to spritz them on and see how they mingle with your skin's chemistry.
After the whole skin chemistry plus perfume thing, my final decision is....
Ellenisia!
I was surprised to find that on my skin, the exuberant (bordering heady) opening notes were toned down a whole lot more, leaving a soft but still prominent floral sweetness. According to Mike, my skin tends to play up the base notes of scents (very obvious with Gardenia) and thus toning down the intense initial overdose. With wear, this develops very well with the plum nectar and vanilla base-notes making themselves known through a very soft and powdery way. It's not quite musk as I know, with a tinge of underlying sweetness running through it.
If I could draw a vision from the scent, I would describe it as a very vintage and quaint home-setting. The best visual cue I have is the box design which replicates this idea perfectly. I imagine vintage floral wallpaper, doilies but yet not from that princess tea party image but a more olden vintage approach, not grandma either!
This wears very well on me, especially with it's Eau De Parfum nature. I find I can get about 6 hours of wear on my skin and even after that it still scents the surface of my skin but not so much the space around me. If I happen to get it on my hair, the scent carries me through the entire day till I shower and I don't notice the scent going awry.
Top Notes: Mandarin Zest and Violet Leaf
Heart Notes: Gardenia, Rose, Tuberose and Jasmine
Base Notes: Plum Nectar and Vanilla
Though Gardenia was love at first whiff on the scent sample, the floral notes shied away when on my skin and the sandalwood was played up quite a bit. It isn't a bad scent but not the same floral I fell for in the first place though over time with wear it developed well and sweetened up but Ellenisia still takes the cake for sweeping me off my feet!
I can't deny that I am still harping on Night Scented Stock and Elisabethan Rose after this, especially the Elisabethan Rose for it's purity.
❧
So rounding this up... I thoroughly enjoyed how the perfumes were given a certain personality and backstory when described. Instead of informing about the notes involved, Mike would describe the sensations and emotions a perfume is meant to invoke while you take a whiff of the scent sample.
What's more, Scent Profiling has this mystic 'psychic-like' appeal where in most cases your scent favortism tends to showcase and unveil your personaliy, at least that is what boyfriend and I encountered. No point sharing our personalities here, though take my word it was pretty impressive!
If you are ever intrigued by Penhaligon's but not sure where to start, don't be afraid to go through a session of Scent Profiling. You may walk away with more than one fragrance in mind!
Price-wise I'm not certain if they are across the board and I forgot to ask but it ranges from about S$150 onwards to S$200 over depending on volume (50ml / 100ml) and the EDP / EDT variant. Will update when I drop by again to check (and hopefully don't get swayed).
If you made it all this way, thank you so much for reading!
Disclosure:
Event was hosted by Penhaligon's and product was provided for review consideration.
I am not affiliated to them and all opinions expressed are my own.