Lush!
To this day I still get all excited when it comes to this brand. Not that I squeal and prance around the store but it still feels like there are so many different things to look at and find out about each time I head down to the Lush store. I used to just be all about their soaps but having a local outlet really helps with discovering new products!
Which was exactly what we did with this cozy little Lush gathering.
❧
We were each handed a fresh rose and bandung (rose syrup with milk - my fav) to sip on upon entering, all this was in theme of their main product for the night. Even the staff present were all color co-ordinated in red!
Well now, what is that rosey star attraction, you may ask?
It's the Ro's Argan Body Conditioner!
Ro's Argan Body Conditioner is a rose-scented "shower lotion". Basically, we have conditioners for our hair so here is a conditioner for the body!
Infused with Argan Oil, which is rich in Vitamin E and essential fatty acids, that helps to improve the elasticity of the skin and also contains anti-aging properties.
On top of that, it contains an infusion of Cypress which is a cooling herb and said to help with sweating problems. Think, a moisturizing body conditioner that has a slight deodarant after-effect, that's some interesting twist.
I haven't tried the deodorant declaration out for myself but we were given a nice conditioning rub of Ro's Argan on the back of our hands and yum, this stuff smells so good. Though this is a comment coming from an ardent fan of anything rose-scented.
The scent is mild, not too strong, sweet or floral. If I could compare it to something I would say it reminds me of the wafting rose scent in Anna Sui's products. Rather similar at least.
May (the lovely lady holding the tub, also one of the owners of Lush Singapore) mentioned that this also works really well as a shaving cream for soft and smooth skin after!
Aside from that one introduction, the folks over Lush made sure that we left the store with soft, smooth and pampered arms!
To do this, they prepared 2 demonstrations using a selection of various Lush products to both scrub and moisturize away!
I didn't snap many photos hence the chunk of words you see thus far (and will continue to see, oops) but these were the items used for Demo 1!
Demo 1
1) Start with a good scrub using Buffy
2) After rinsing, pat dry and hydrate the skin using Soft Coeur massage bar (which is edible... hmmm)
3) If Massage Bars leave too much of a tacky residue on you, you can always pat on some Silky Underwear (body powder) to smooth things out!
Here's Kas getting her turn with the demo! I had to resort to snapping pics of others since I can't shoot when getting my hands wet.
Demo 2 was a little more, I would say, 'hard-core' with the exfoliation and I could honestly feel my hands getting so much more supple, smoothened out and 'scrubbed' after. This demonstration was really hands-on and made us use both our hands.
Here's what was used:
Demo 2
1) First they slathered generous amounts of Lemony Flutter (originally a cuticle cream) for us to rub on our fingers and all over our hands
2) Then, we were given a dollop of Ocean Salt (body scrub) to exfoliate our hands with
3) Rinse it all off after and surprisingly it washed off easily with no greasiness
4) After rinsing, pat dry and bring on the hydration with Dream Cream!
I was surprised to know that Lemony Flutter could be used before an exfoliation to help enhance the effect. It helps to soften the dead skin, especially the around the cuticles, which then makes it easier to exfoliate them away.
That marked the end of the party session and we wrapped up the night with snapping random shots of the shop and also some chatter.
Here are some shots from the shop along with a captions, to ease the word load.

Special Mothers' Day Lush packaging (the flower one)! As opposed to the usual Lush logo wrapping.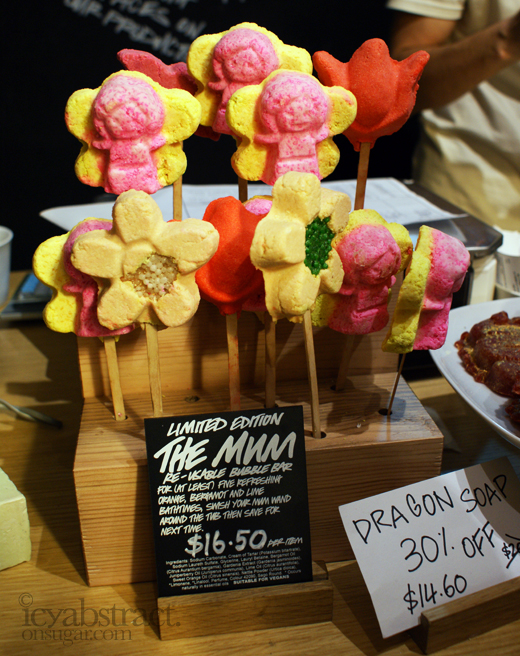 Another Mothers' Day item (the pink angel with yellow wings). This is actually for dish-washing, not a soap!

No Drought dry shampoo which had us all crowding around it. I passed up on getting it but I'm having second thoughts...

Me being dumb, decided to snap a shot of my hand to showcase how soft and smooth it was after the demo but I doubt pictures do anything for that! Instead, here's a nail color preview :)
❧
And lastly, if you have made it all the way through this text-filled entry, here's the Promotional information for you!
In the month of May, for every Ro's Argan Body Conditioner you purchase, you will have your name entered into a Lush draw! So if you purchase 3 tubs, you will be entered 3 times.
The prize at the end of this draw is a 12-item Lush gift set worth S$150!
You can drop by the store to enquire more about the giveaway or read up about the goodness of Ro's Argan Body Conditioner via Lush's blog!
If you have been curious about this or love it to bits, now would be a good time to pick it up or stock up.
With that, thank you for reading!
Also, do share what are some of your loves from Lush, be it their soaps, conditioners, anything! So I know what to check out the next time I drop by the store.