I was invited down to Komachi Hair Cult for a hair makeover and a part of me felt excited, since this is the first time a salon had contacted me, and another part of me a little apprehensive and embarrassed of the state my hair was in.
The hair designers (as they are called) are renown in the industry and have notable work experiences and clients under their belt. (Here's a page of their Hair Designers).
So imagine me... with my faded golden hair, not forgetting the grown out black portions along with my overgrown and out of shape layers. I think my hair was pretty much a train wreck and could have made the Hair Designers recoil in shock...
But hey, that's when we need to seek expert opinion about how to salvage our hair, yes?
❧
Tucked away on the second story of International Building, a quiet corner of Orchard, the store looks fairly simple from the front. Not overly flashy and I like the privacy it provides.
Where people wouldn't walking by staring at you with your hair in all sorts of awkward positions while you get your cut / color.
I took the typical salon chair instead of the arty full length one because I needed somewhere to put my camera and phone.
So here's a before shot of the mess that you all are no strangers to.
My usual trip to the salon would be me telling the stylist I want a trim, layers, or in some cases, saving pictures of hairstyles I want and showing them to her. While I do love my go-to stylist to bits, she's great at cutting hair to what I want but it's a nice change when someone decides a style for you, based on you.
Such as in this case, the Hair Designer would come over and take a look to see what you need and hear your preferences if any. In my case, it was simply, "not too short".
After that, I was whisked away to get my hair shampoo-ed along with a very (and I mean very) relaxing head and neck massage. Once that was done, the cutting begins!
I left my hair's fate in the hands of Logan Guo, Creative Director at Komachi Hair Cult.
After lots of snip, snip, snipping, he was done with the look he had for me. Along the way, he explained the style he was giving me. Such as leveling my hair because I had way too many layers going on and since my hair is facing mildly dry days, having a thinner 'end' would not be flattering.
Instead Logan gave me a new parting, to help 'frame' my face. I also mentioned that I was trying to grow my bangs out so he helped me with a cut that would make the 'transition easier', as opposed to my previous all-over-the-place hair.
He also balanced and leveled my hair so it appeared to have more weight and seemed healthier. Not forgetting some strategic layers to further help frame the face.
Though it didn't stop there! This is only half of the work done. To bring out the full potential of this haircut, of course we have to get rid of that dreadful color.
Again, before anything, I told Logan I didn't want black hair and thankfully he agreed that for my complexion, black hair wouldn't be the best option.
Instead he opted for.... well, I'll just leave the pictures here and disclose the color at the end!
When coloring your hair at Komachi, they will bring out a robe for you to slip on.
It makes it easier to prevent the dye from getting on your clothes and you can move to and fro the shampoo station with ease too.
Could it be that they couldn't stand my color so much that they are both working together to mask it?
Heh, well no, this is quite a norm in salons.
My hair was left wrapped up for about 15 minutes before they checked on it and touched-up accordingly.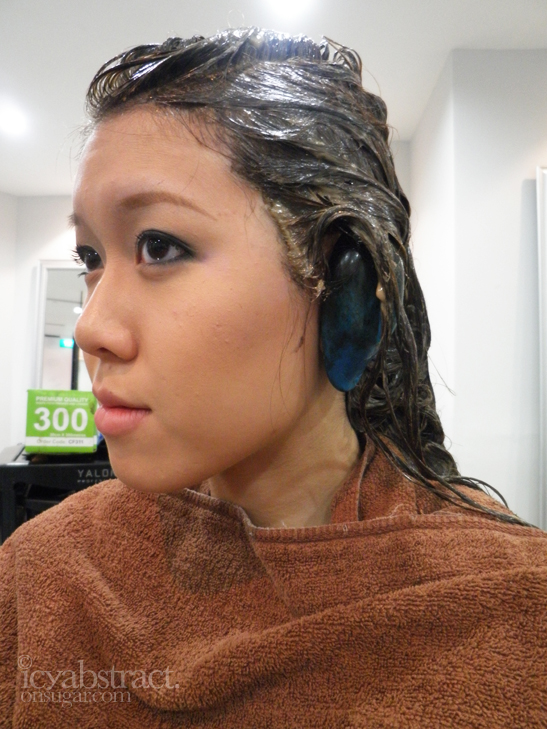 You can sort of see the color here and it isn't some bright-hot shade because according to Logan, red was a little out of style (based on hair trends) and he wanted to pick something that would make me appear fairer and brighten my complexion.
A total of 25 minutes of hair dye and a wash later.......
Here's the final look that I took within the salon. The picture on the right is with Logan Guo, the mastermind behind this hair revamp.
My hair looks so shiny and blown-dry / styled in a way that it almost looks like a wig. Most importantly, my hair looks healthy!
Logan mentioned that while my hair will still fade over time because I had it bleached before, the hairdye he used is suppose to prevent it from fading too fast. It also amps up the shine factor for healthier looking hair.
While the shots above seem a bit awkward because I'm awkward when made to pose, I took more shots of my hair to showcase how it looks! And of course better shots at home with my SLR, to showcase the color.
The color is a green-toned ash brown which does flash a little copper under light but generally it's a mousey dark brown shade.
Logan chose a darker shade in any case of fading it would slowly ease through the browns before reaching the gold (if ever). Though it's unlikely it would fade to that same shade of gold with how dark this color is.
Ignore the unintentional brother photobomb.
Though I was never one for dark colors, I'm actually loving the mousey-ness of this and I like how this means I can start wearing all sorts of lip shades without a care now. No more worrying that bright red would clash with my orange-gold hair.
Side-note but I also really like how this style looks tied-up.
So... what do you think of my new hair? It's definitely a whole lot easier to mantain!
Big thanks to Komachi Hair Cult for this makeover. If you are interested, you can hop on over to check out their services and rates. It's not cheap but during my time there I saw a good number of customers getting their hair done.
I think if you want to invest in a good hair consultation / cut, there's no harm in dropping by and giving it a shot. You may be given a style you had never thought to try but end up liking!
Komachi Hair Cult
360 Orchard Road #02-03/04
International Building (next to ANZ Bank)
Tel:
65-63399432
65-68363391
Thanks for reading! While I could fast forward to the result, I wanted to keep it informative for those who were interested in the salon.
Disclosure:
Session was hosted by Komachi Hair Cult, special thanks for their hospitality.
I am not affiliated to them and all opinions expressed are my own.