If I were still doing video tutorials I might have done one for this look because I really like how it turned out in the end.
I've seen the Trouble Maker MV a few times and always liked this particular styling on Hyuna.
The mix of sage and bronze eyeshadows with a random pop of a baby pink lipshade, I think it's cute. Since I had all the time in the world to get ready today I thought to try an inspired-by look.
It's particularly challenging as when I say inspired in these situations, I really mean that I'm trying to get the exact thing she has going on - the tones and shades etc. It's not going to be perfect, hence the 'inspired' disclaimer, but overall I like how it ended up.
Here's a screencap of the look that I was going for: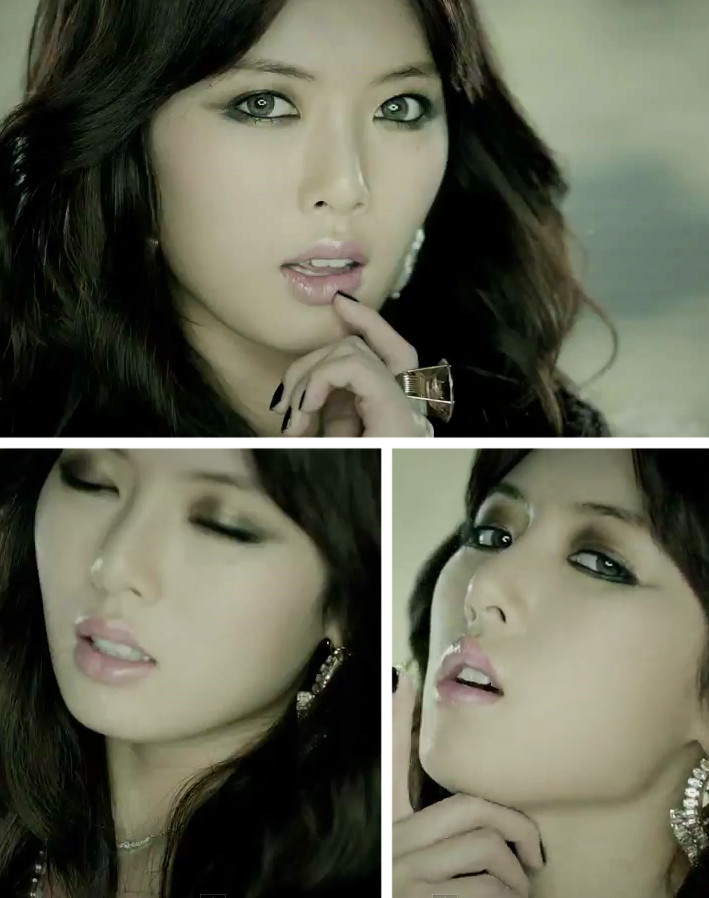 I thought to skip on that lower lash eyeshadow thing that she has going on because I'm not used to doing that but in end I tried it anyway. My take was a lot more subtle and shaded out, compared to hers.
Here's my take:
When some people do inspired-by looks they really end up looking like the person in question. For me, I feel I just don't 'look like her' because of my face structure? So I thought why not throw on some grey contacts to bring me that one step closer!
Cheap trick, I know.
Apologies for the scary closeup picture mid-way through but the full face shots turned out to be rather scaled down after uploading. Thus I felt a close-up would be a good representation of the complete look.
Products Used:

FACE/BROW
K-palette Brow Liquid Liner in 01
Maquillage Brow wax in 77
Smashbox Photo Finish Primer in Luminizing
Lancôme Teint Miracle Liquid Foundation
Lumiere Invisiveil (to set)

EYES
Urban Decay Primer Potion
Benefit Cream Shadow in Skinny Jeans
L'oreal Open Eyes Pro in 09 (realized the name is in Mandarin, zomg)
Sleek Original Palette
Majolica Majorca Palette in BR742
CLIO Professional Brush Liner in Black
MAC Powerpoint Liner in Engraved
Dollywink Volume Mascara

CHEEKS
Canmake blush in PW11
MAC Beauty Powder in Elude (highlight)

LIPS
Peripera Lipstick in Sugar Pink
Laneige Styling Lip Duo in Pink Glow

Highlighted products were provided by companies/distributors,
I was not obliged to use/feature them in LOTDs.
Accidentally left Smashbox's Primer in Luminizing out of the groupshot, oops.

(click to enlarge image to see number)
Here's a breakdown of what colors were actually used (and how) since a couple of quads/palettes were used.
All over lids, below the crease, blend the edges!
Dab on the inner corner of the lids
Layer over color (2) because I wanted a slightly lighter tone.
Dab (with fingers because this color has fall out!) on the centre of the lids
Blend from the outer corner to the centre, extend it slightly out of your lids. Dab color (5) again if it gets muted
Blend this lightly above the inner corner (crease area). You can see the bronze in the images above!
For the heck of it I tried my hand at center-parting (which Hyuna has), something I haven't done since my secondary school days...
But eep... no.
I think I am much better off with my bangs or to compromise maybe slightly centre parted bangs. heh
All that aside, today was such a gloomy and rainy day with so many things going wrong but within all that wearing this makeup just made me feel that tad bit better, is that weird?
If I don't manage to get on here later today or on Christmas, I want to say...
Eat, drink and be merry while mingling with your loved ones this festive season!
Thanks for reading!